Chelsea FC vs Hull City ZON, 22 JAN 2017, 16:30
Info
Chelsea FC vs Hull City played: ZON, 22 JAN 2017, 16:30, Stamford Bridge

Denk er aan:
* Denk eraan dat wedstrijden in het week-end goed van Zaterdag op Zondag en omgekeerd verplaatst kunnen worden en ook at de wedstrijden midden in de week omgeruild kunnen worden van Dinsdag naar Woensdag ! Alle deze omruilingen van data kunnen op korte termijn gebeuren en daarom aanbevelen we dat U hiermede rekening houdt in Uw plannen voor de reis!
* U zal NOOIT een enkele zitplaats verkrijgen. U krijgt altijd zitplaatsen naast uw vrienden, of vlak voor of vlak achter uw vrienden indien u samen boekt. Dit is onze garantie naar u toe!
* U zit altijd tussen toeschouwers van het thuisteam.
* NB: tickets voor kinderen kunnen ALLEEN met tickets voor volwassenen worden verkocht!.
* Lees meer hier, dan bent U goed aangekleed vóór U Uw bestelling klaarmaakt.

Hieronder kunt U meer zien om de plaatsen en de categorien die U kunt bestellen voor Uw voetbalwedstrijd. * NB: tickets voor kinderen kunnen ALLEEN met tickets voor volwassenen worden verkocht!
Vanaf € 104.80
Categorie
West Stand Tickets includes:
* Upper tier long side seat location
* Superb view of pitch
* Under roof, weather protected
* Conventional paper tickets, supplied together always
* Home and neutral fans welcome
* Perfect for children and families
* Stadium opens 2.5 hours before kick-off
West Stand and Tea Bar Tickets includes:
* Upgraded location in West Stand Upper Tier (long side location, block 2)
* Seat position between halfway line and edge of penalty box
* Tea Bar opens 3 hours prior to kick-off
* Located next door to Mega Store
* Pre-match three-course table service served menu with choice of dishes per course
* Complimentary bar (beer, wine, soft drinks) served with pre-match meal
* Informal relaxed atmosphere, children and families are welcome
* Guaranteed table reservations
* Complimentary match program
* Team sheet
* Betting facilities
* Post match sandwich buffet and tea/coffee served in Tea Bar
* No strict dress code, although football shirts are not permitted

Short Side
* Regular short side seats in AWAY section
* No HOME team colors to be worn!

POWERED BY TRAVEL CONNECTION
Hotel
For Chelsea matches, we do sell West Stand Tickets included 2 nights(Saturday to Monday) or 3 nights(Friday to Monday) in one of the following hotels:

Royal National Hotel(**): Central London's largest hotel with 1630 rooms located near Russel Square. The rooms are basic but include all the necessary amenities. Free WiFi in the lobby. Breakfast is included in the price.

Kensington Close Hotel(****): Perfectly located near the shops of High Street Kensington. The hotel has a beautiful private garden, health club, spa and swimming pool. WiFi in all room(not free). Breakfast is included in the price.

Cumberland Hotel(****): Great hotel perfectly located near Oxford Street and Marble Arch. Cumberland is a modern and artsy hotel. Free WiFi at the hotel and in the rooms. Breakfast is included in the price.

Here you can book Twin rooms or Tripple Rooms.

Sometimes, but very seldom, we are advised that we need to change a hotel after the booking is confirmed. If this happens, we will always confirm a hotel of similar standard as the one you have booked, or better!

Your soccer tickets will be delivered to you when you check in at the hotel!

Like all booking of football tickets, you cannot change nor cancel football and hotel packages after you have confirmed and paid your booking!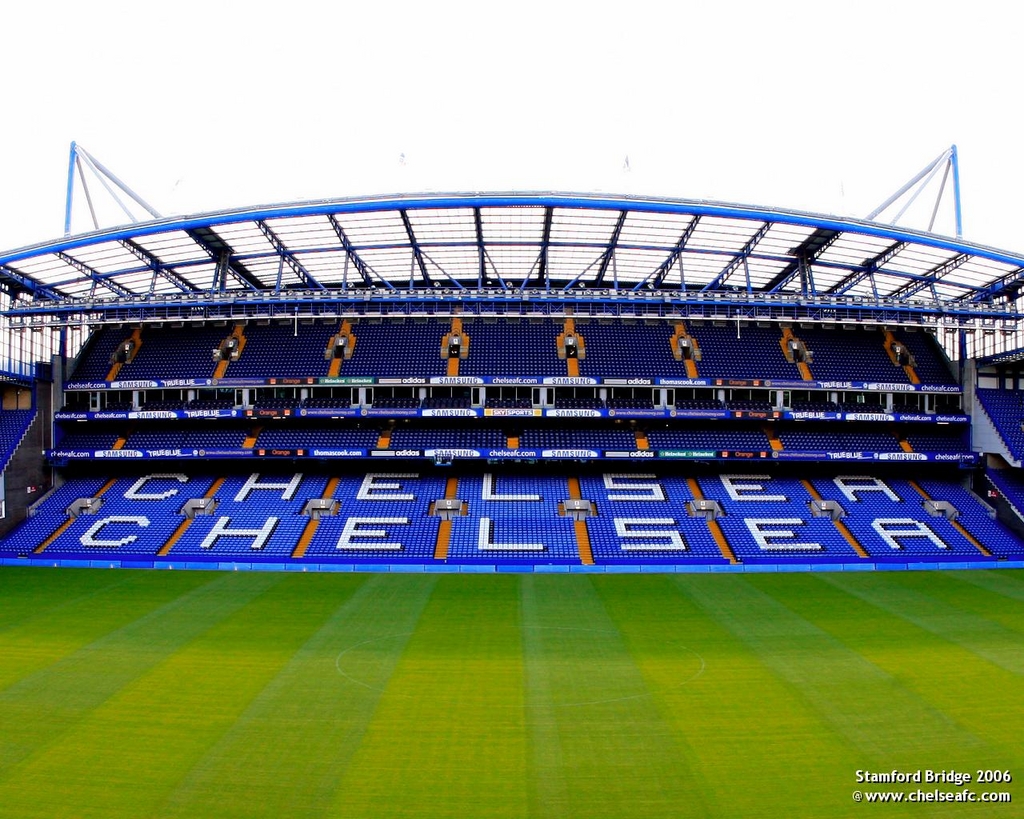 Arena info.
Stamford Bridge
Toeschouwers
42.500
Adres
Fulham Road,
London, SW6 1HS


Zie op een kaart
Metro
Fulham Broadway (District Line)
Bussen
14, 211, 414
Het seizoen is voorbij. Ticketverkoop voor het volgende seizoen in Augustus
Het seizoen is voorbij. Ticketverkoop voor het volgende seizoen in Augustus
Het seizoen is voorbij. Ticketverkoop voor het volgende seizoen in Augustus
Het seizoen is voorbij. Ticketverkoop voor het volgende seizoen in Augustus
Het seizoen is voorbij. Ticketverkoop voor het volgende seizoen in Augustus
Het seizoen is voorbij. Ticketverkoop voor het volgende seizoen in Augustus
Het seizoen is voorbij. Ticketverkoop voor het volgende seizoen in Augustus
Het seizoen is voorbij. Ticketverkoop voor het volgende seizoen in Augustus
Het seizoen is voorbij. Ticketverkoop voor het volgende seizoen in Augustus
Het seizoen is voorbij. Ticketverkoop voor het volgende seizoen in Augustus
Het seizoen is voorbij. Ticketverkoop voor het volgende seizoen in Augustus